The basics to cover up!


Most sizes fit small/medium even if it says just one size or the other. Contact me for specific measurements only if seriously interested! SHIPPING IS NO LONGER INCLUDED UNLESS OTHERWISE NOTED! I now realize how much it costs to ship things. Expect $2-5 added depending on size & weight!

A lot of items were only worn once because I was in a dance company and we had to buy our own costumes; hence only needing them for one show! Other unworn items were gifts from family that weren't my size or style. Just in case you were wondering!


---
TOPS
---


Hollister Polo. XS/S (bought from another LJ user but didn't fit me). $10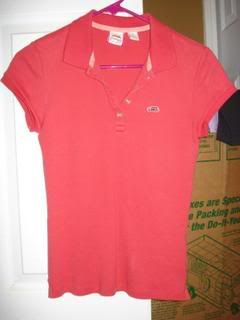 Authentic Jimmy'z Polo. Small $10




AE sheer bulldog graphic tee. Small $8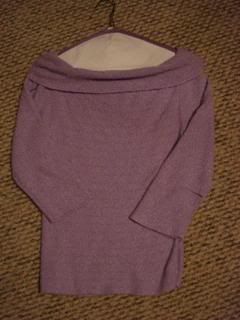 Delia's boucle sweater that can be worn on the shoulder or off. S/M. Has a small slit on one sleeve. Super comfy. $5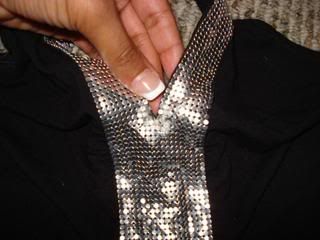 Sparkle v-neck halter. Bought from another LJ user but doesn't fit. Has a bit of damage at the center of V but was hot glued back together. I tried to take as best a pic of it as possible. Large. $9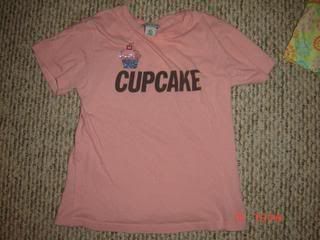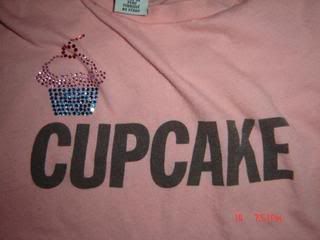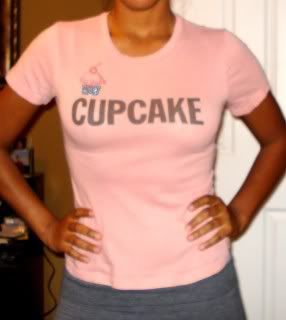 Guess Cupcake shirt with gems. S/M but fits a small better (stretchy). (retail $30) $12




Abercrombie & Fitch cami with lace. XS/S $7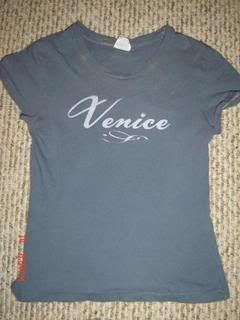 Abercrombie & Fitch Vintage Venice tee. S/M fits small better (stretchy). Slight washing stains visible in pic. $5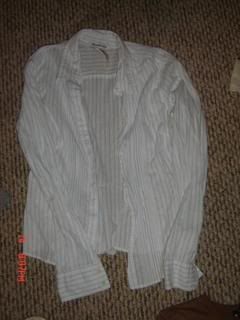 Abercrombie & Fitch sheer blue & white stripe shirt. S/M (originally $50) $15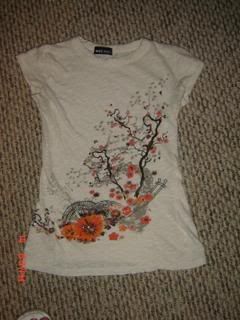 Wet Seal sheer tee vintage fall scene & sparkle sequins. S/M (stretchy) $10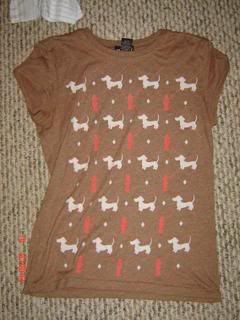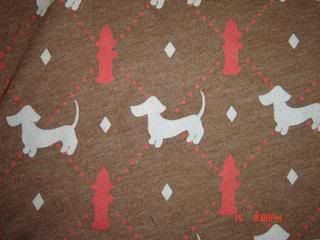 Wet Seal tee with dog print. S/M $8




Polka dot shirt. S/M $10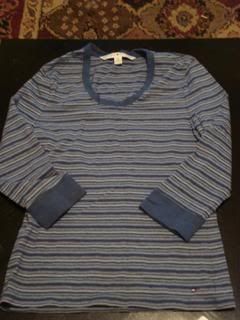 Tommy Hilfiger stripe shirt. Never worn. S/M stretches. $8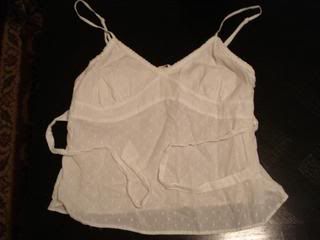 White American Eagle tie tank with adjustable straps. S $8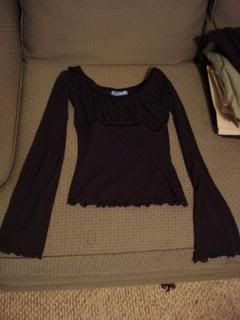 Delia's flare sleeve top. XS/S $5




Rue 21 white V-neck longsleeve. M $5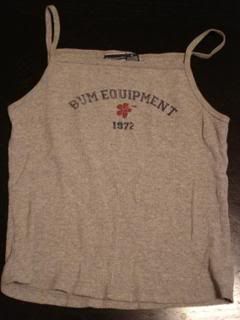 Grey tank with flower. XS/S $4




Assortment of tanks sized XS-M. All $4 each, red with rhinestones $5.




Blue raceback gym top. S. $5
Brown tank. S. $4




Abercrombie cami with lace. XS/S $5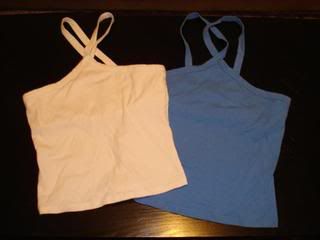 White & blue criss-cross halters $6 each. Both fit S/M but blue is slightly bigger.




Pink & brown stripe shirt. XS/S $6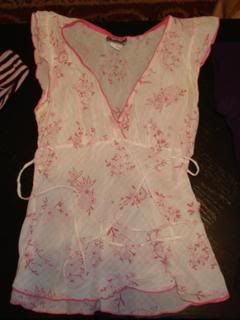 White & light pink top with flutter sleeves. S/M $6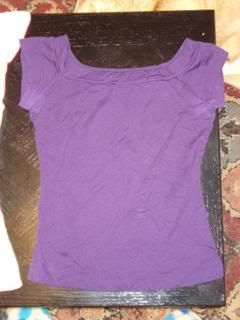 Delia's deep purple (way deeper than shown, more plum) top. S. $5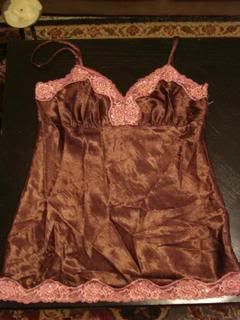 Pink & brown lace cami. S/M $7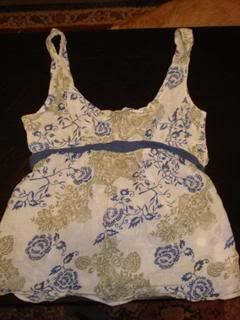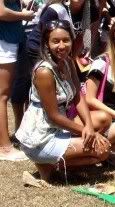 Green & blue floral top with tie back & button side. S (not for those with big boobs!) Worn once for a pageant casual day. $10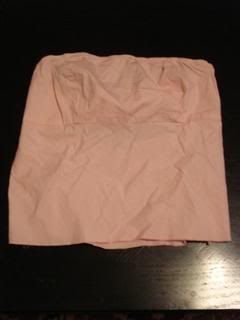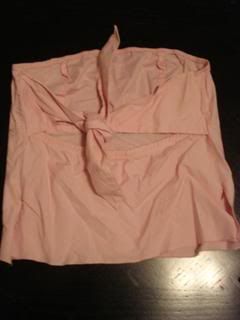 Pink strapless tie back tube top. S. $5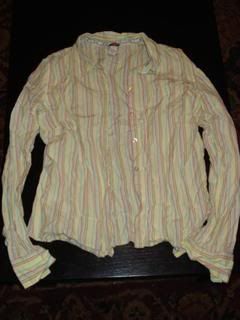 Aeropostale multi-stripe button up shirt with long sleeves. S/M $8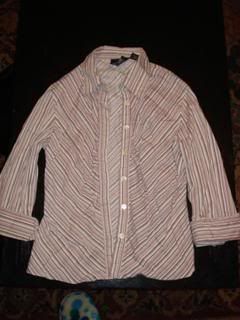 Pink/brown multi-stripe button up shirt with long sleeves & cinching at chest. S/M $6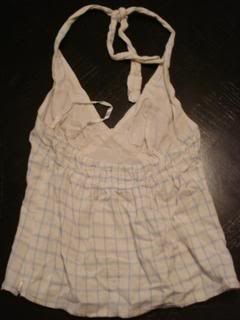 American Eagle blue/white plaid halter. S $10




Yellow Alloy tank with shell detail. S/M $8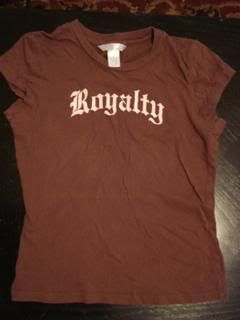 Aeropostale royalty pink & brown baby tee & slight sparkle. XS/S $8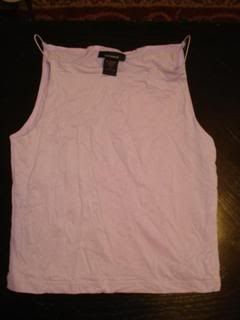 Express purple tank. Soft silky texture. XS/S $8




NY&Co. long sleeve letter L shirt. $8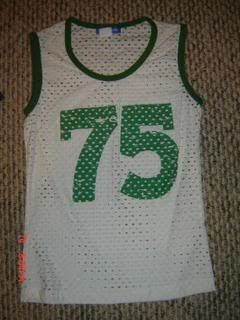 Delia's mesh athletic tank. S/M (stretchy) $10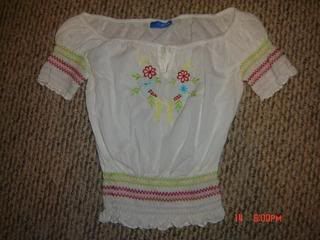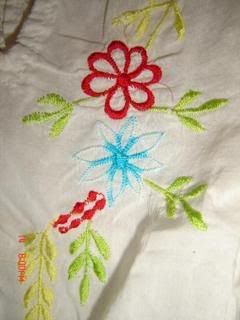 Delia's crop "fiesta" top. Slight bleaching discoloration. S/M $7




Sheer layering tees. S/M $6 each, $4 for green because of slight stain.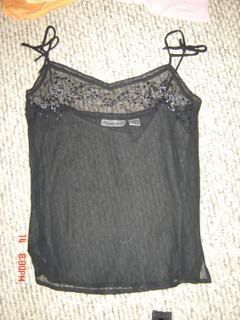 Sheer black spaghetti top. M $5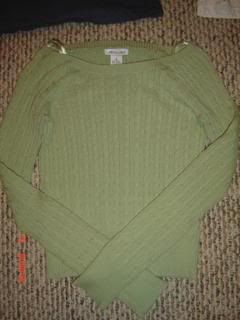 Aeropostale green sweater. S $10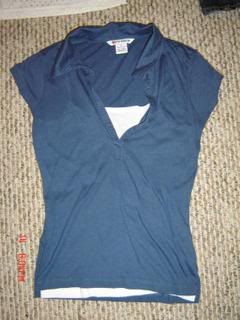 Blue shirt with attached white cami. S/M $7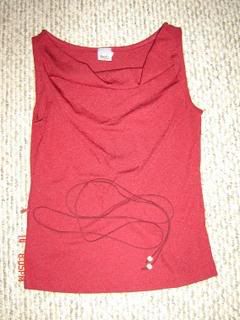 Sleeveless red tank with beautiful draping & removable tie back. S/M $8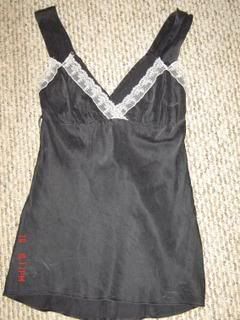 Wet Seal black satin cami with lace & tie back. Slight fading. S/M $7 [PENDING SALE]




Red tee. Slight fading S/M $5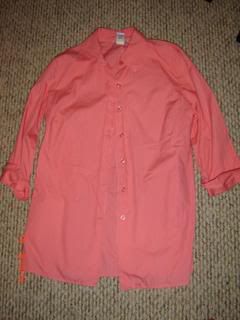 Pink button up shirt. Long M. $5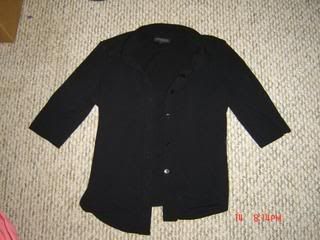 Express black button up shirt. S/M $6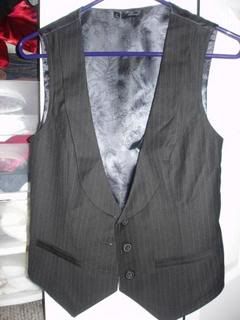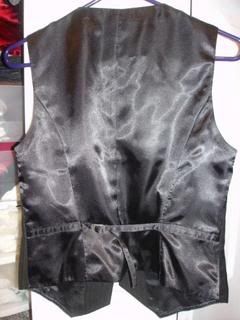 Old Navy vest. Adjustable back strap. Worn once. Medium. $10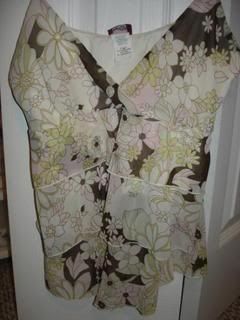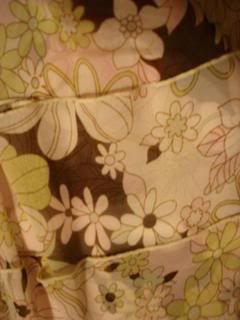 Floral tank top with beautiful fall colors. Great under cardigan. Small. $10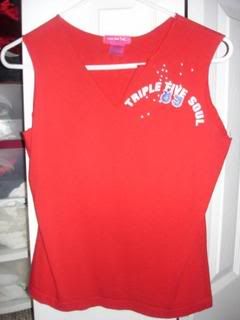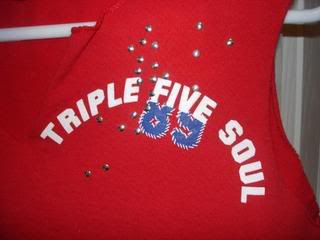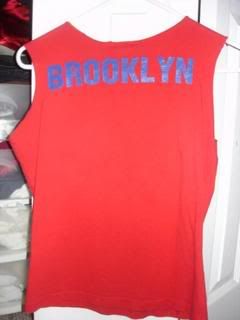 Triple Five Soul top. S/M. $5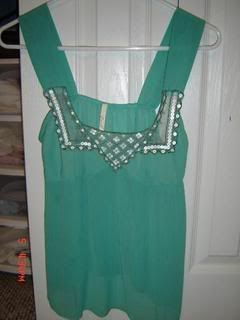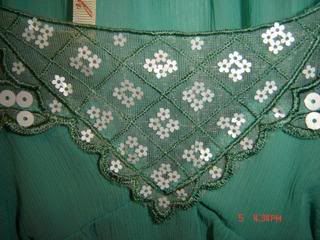 Absolutely adorable green tank top with incredible detailing. Sheer so make sure to have a cami underneath! Small. $10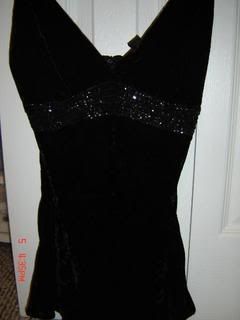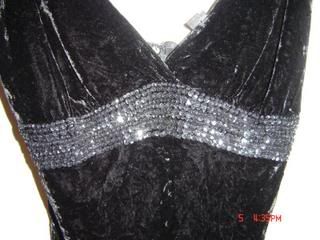 Express spaghetti top. Velour with sequins around the bust. Says XS but I'm a S/M in tops. Basically, you need boobs to fill this thing out (or padding/nu bra). $15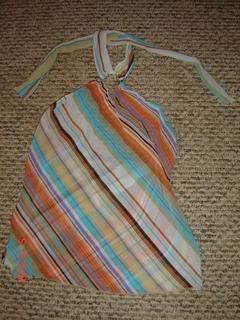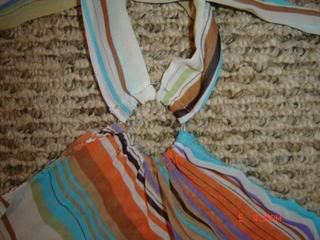 Multi-color stripe halter top with ring detail. Sheer (wear your nu bra again!). Small. $10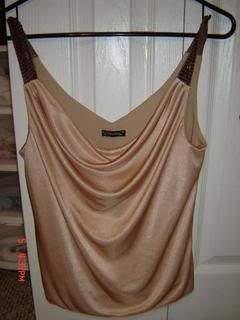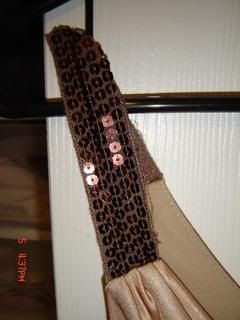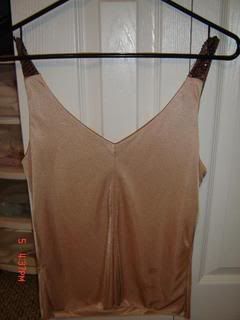 Shimmery satiny gold and brown top with sequin straps and back V. Front drapes beautifully. Small $15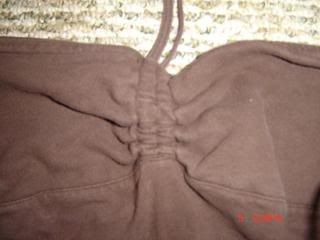 American Eagle halter top with scrunching at bust and ties at neck. Small $5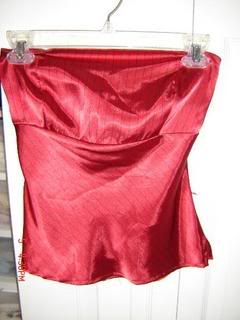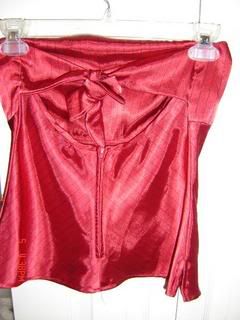 Shiny silk/satin red strapless tube top with tie back. Very subtle pinstriping. Small $7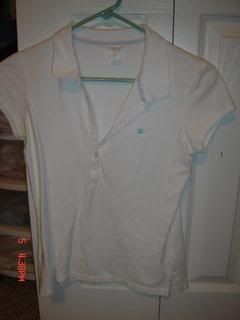 Aeropostale polo with blue butterfly. Medium $5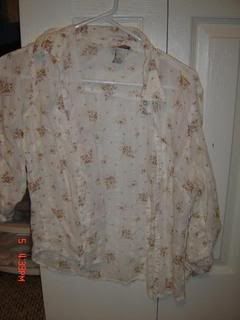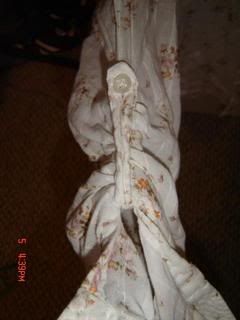 Aeropostale button up floral shirt with option to tie back sleeves or leave long. (really crappy pics, wasn't in the mood to make them nice and neat). Medium $5





---
BOTTOMS
---


Black, grey, & silvery plaid "business" skirt. Sz 5ish. $5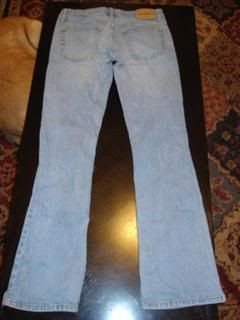 Levi Strauss stretch lowrise bootcut jeans. Sz. 7 in juniors. I cut slit at the bottom of the pants. $6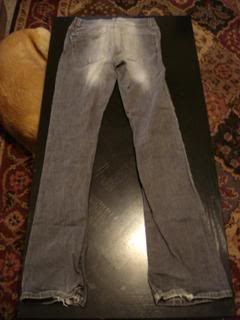 Delia's stonewashed dark jeans. Fits 3/4 best. Some fraying at bottom. $8




Levi Strauss stretch capris. Size 7 in juniors. $7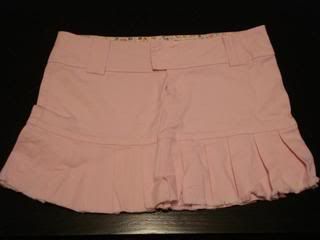 Pink pleated skirt. S/M stretch. $7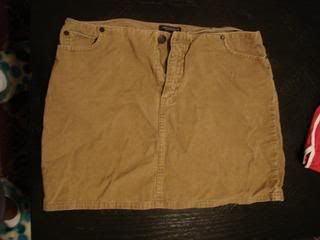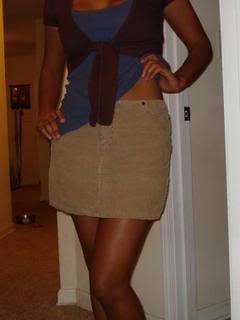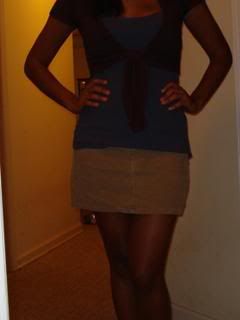 AE khaki corduroy skirt. Size 4 fits 5/6 too. $10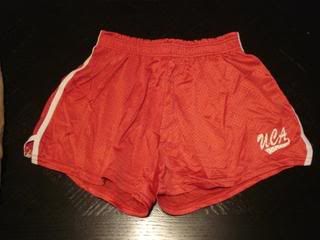 UCA (Universal Cheerleaders Association) track-style gym short mesh. Small $8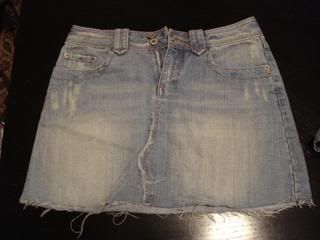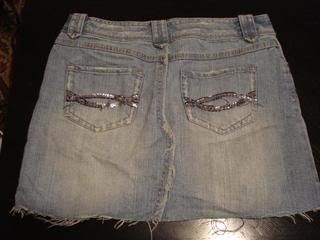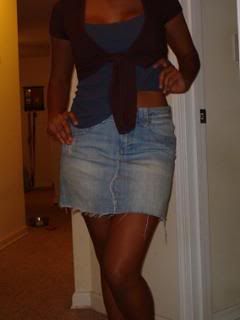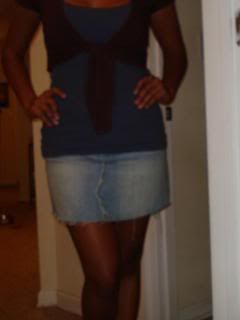 Jean skirt with silver sequin details on back pockets. Medium $8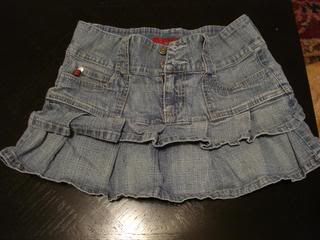 Cute ruffle jean skirt with some stretch in it. S/M $8




Black slacks with zipper pockets. Sz 5 $6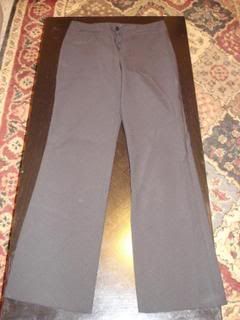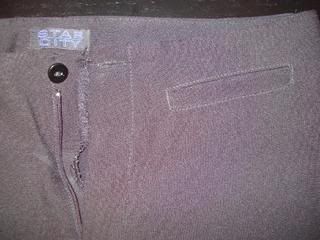 Black business pants with faux front pockets. Sz 5 $6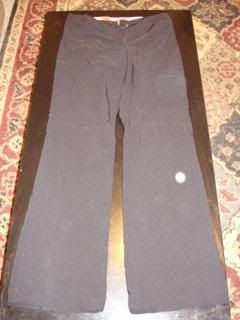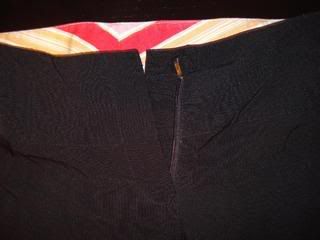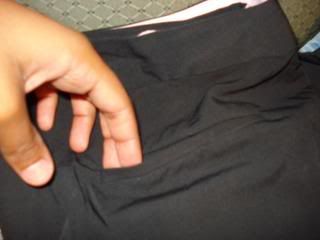 Black slacks with faux back pockets. Sz 5 $7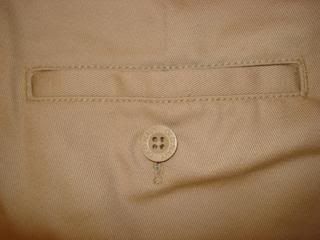 Old Navy NWOT khaki pants. 6 regular $10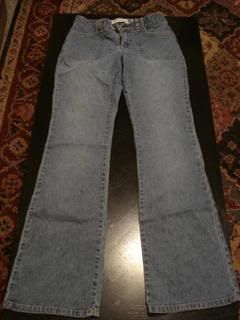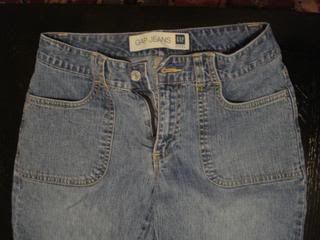 Gap jeans. Sz 4 $10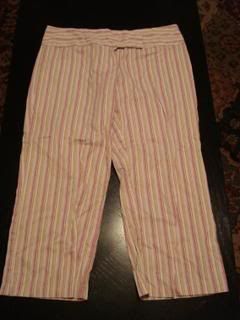 Colorful stripe capris. Missing one button (can still close). S/M $5




Cheerleader red soffe shorts. S/M with elastic $5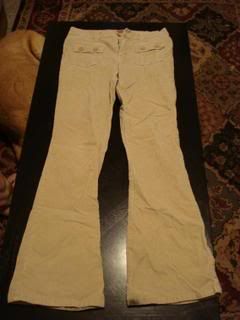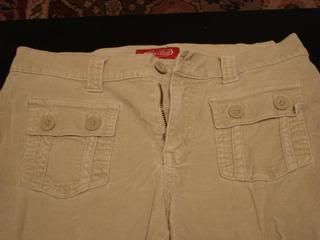 Khaki corduroy pants with some markings at end of leg. Size 5 stretchy $5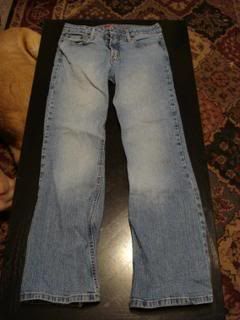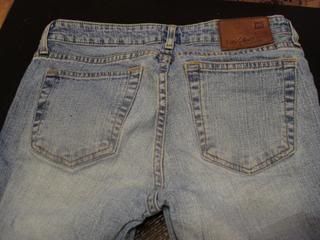 Mossimo jeans sz 5 $7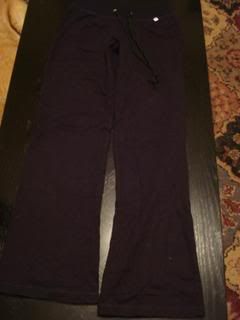 Black sleep pants with drawstring. S/M $6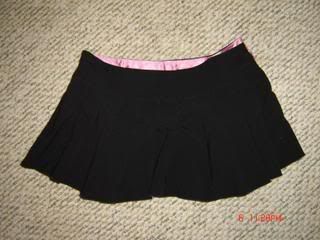 Black pleated skirt with pink/purplish lining. 5/6 $7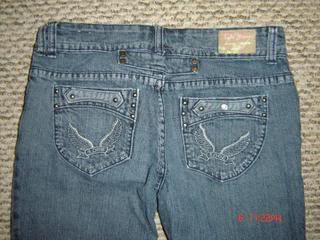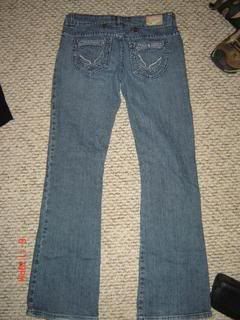 Tyte Jeans with back pocket detailing. Size 7 $15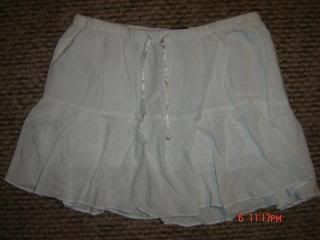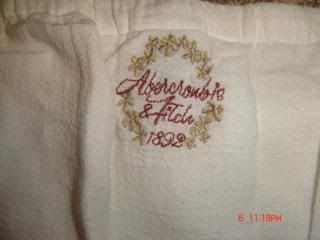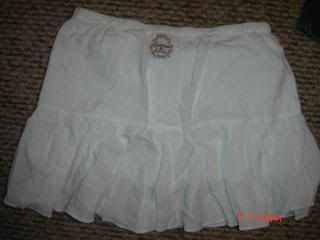 Abercrombie & Fitch white beach skirt with elastic tie waist. S/M $7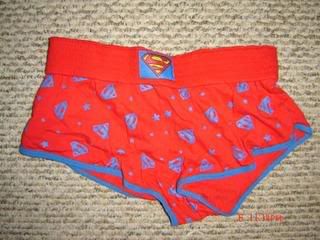 Superman shorts. Size S (Warning: VERY SHORT! I would wear them to bed.) $4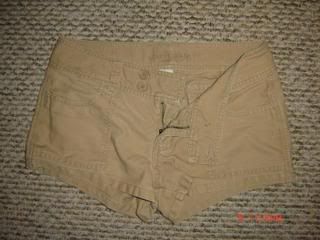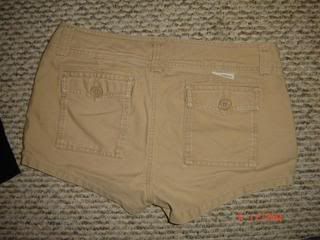 Khaki shorts from Aeropostale. 7/8 could fit a 5/6. $7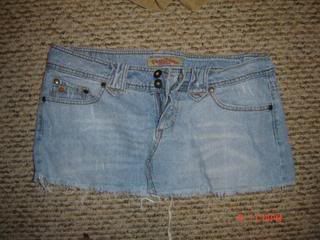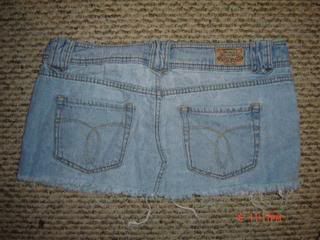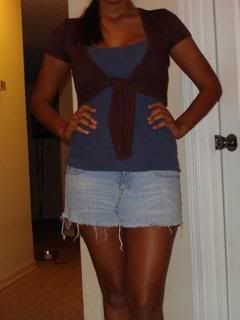 Paris Blues jean skirt with ragged edges. Size 7 short! $12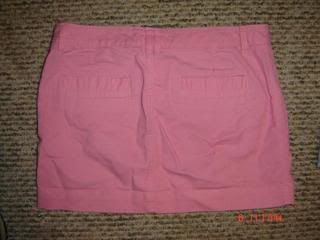 Old Navy pink prep skirt. $10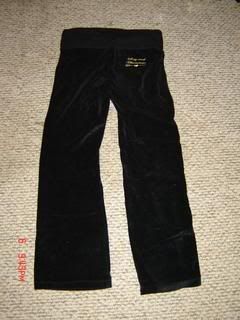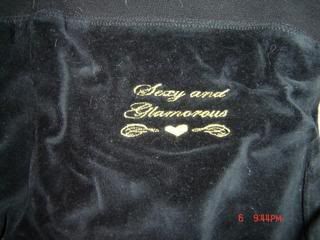 Velour pants with "Sexy & Glamorous" on back right side. I have the matching hoodie with "Sexy" on the back (as seen on Shauvon from the Real World Australia) but I'll only sell it with the pants. Size Medium. Pants only $12. With matching hoodie (ask for a pic if needed) $20.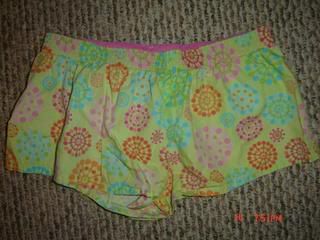 Colorful sleeping shorts. Small (short) $7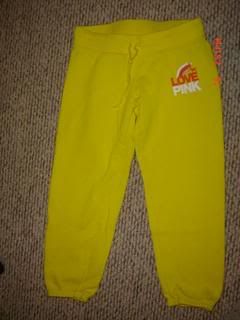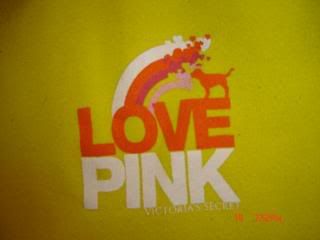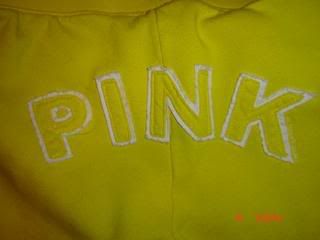 Victoria's Secret Pink sweatpants that can be scrunched up at the bottom. S/M $18 TRADED!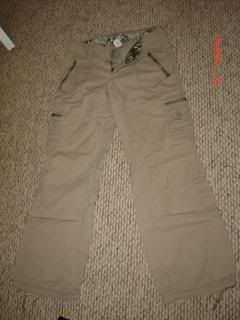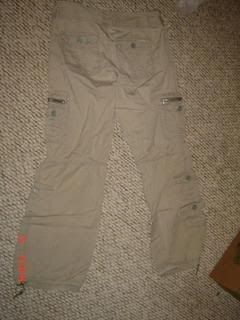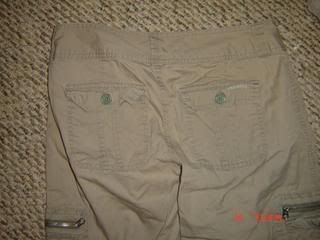 Aeropostale green cargo pants. Lowrise 4/6 $12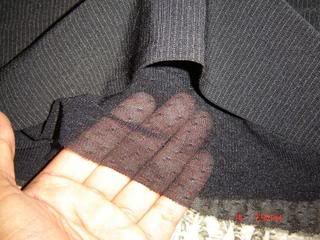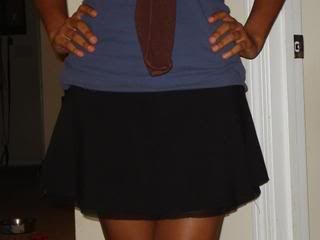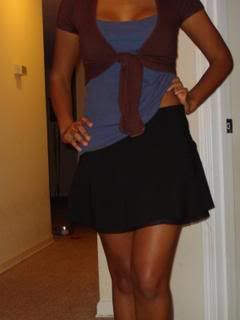 Delia's black skirt with lace bottom. This was hard to photograph but the middle pic is the true black. S/M $12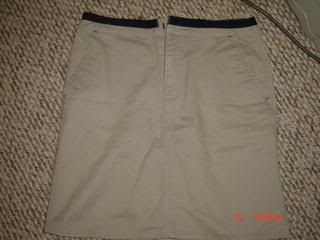 Delia's khaki straight skirt. 4/6 $10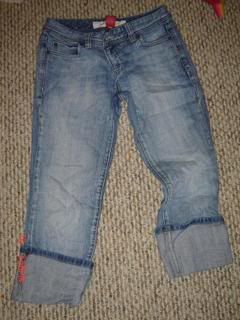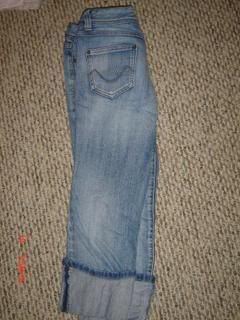 Blue jean capris. Size 5 $12




Pink track pants. S/M elastic band. No drawstring (but I never used it anyways). $8 SOLD! [UPDATE: scammed on these! See my deadbeat list for details.]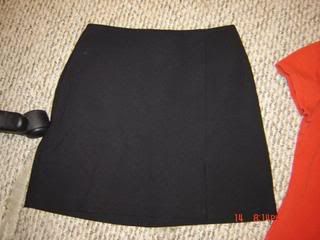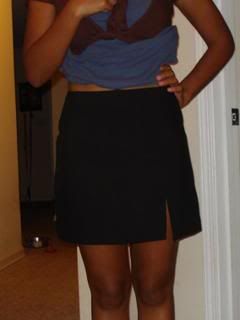 Black business suit skirt with slit. S/M $5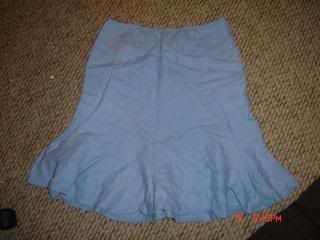 Old Navy "bell" shape linen skirt. Size 4. $10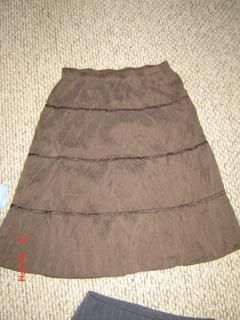 Brown bohemian type skirt. Slight fading. S/M $7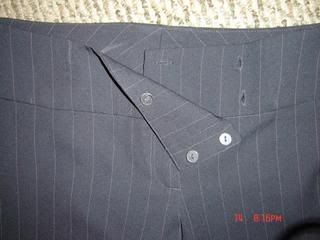 Grey with pink pinstripe pants. 4/6 $10